ZenBusiness is a highly regarded and well-respected business formation service. They can help you with all paperwork and filings if you are starting an LLC or corporation.
ZenBusiness is known for its simplicity, speedy filing, compliance guarantee, and excellent support. It's also affordable, even for small businesses.
ZenBusiness has helped to create over 300,000 businesses. Their customer reviews on Trustpilot are mostly positive and we have ranked them in our top three best LLC services.
Click Your State to Find LLC Formation Pricing
(ZenBusiness Interactive Map)
ZenBusiness, a Public Benefit Corporation is committed to helping small businesses succeed. Their business model and mission statement include social impact.
Is ZenBusiness the right fit for you? What are their services? Is it worth the price? In our ZenBusiness review, we'll answer these and other questions.
Visit ZenBusiness
ZenBusiness Business Formation Services
ZenBusiness offers many services. However, its most popular offerings are in the business formation category. These include LLC services and incorporation services. Registered agent services are also available. These will be broken down further below.
ZenBusiness LLC Services
An LLC (limited liability company), which offers liability protection, is a good option for business owners who want the ability to shield themselves from personal responsibility in relation to lawsuits and debts that may be incurred by their business.
The LLC forms the business's legal entity. All legalities related to the business are independent of the owner.
ZenBusiness offers many services, but LLC formation is the most popular.
It is easy to get started. Navigate to ZenBusiness' website and choose "LLC" in the dropdown menu. Next, select your state.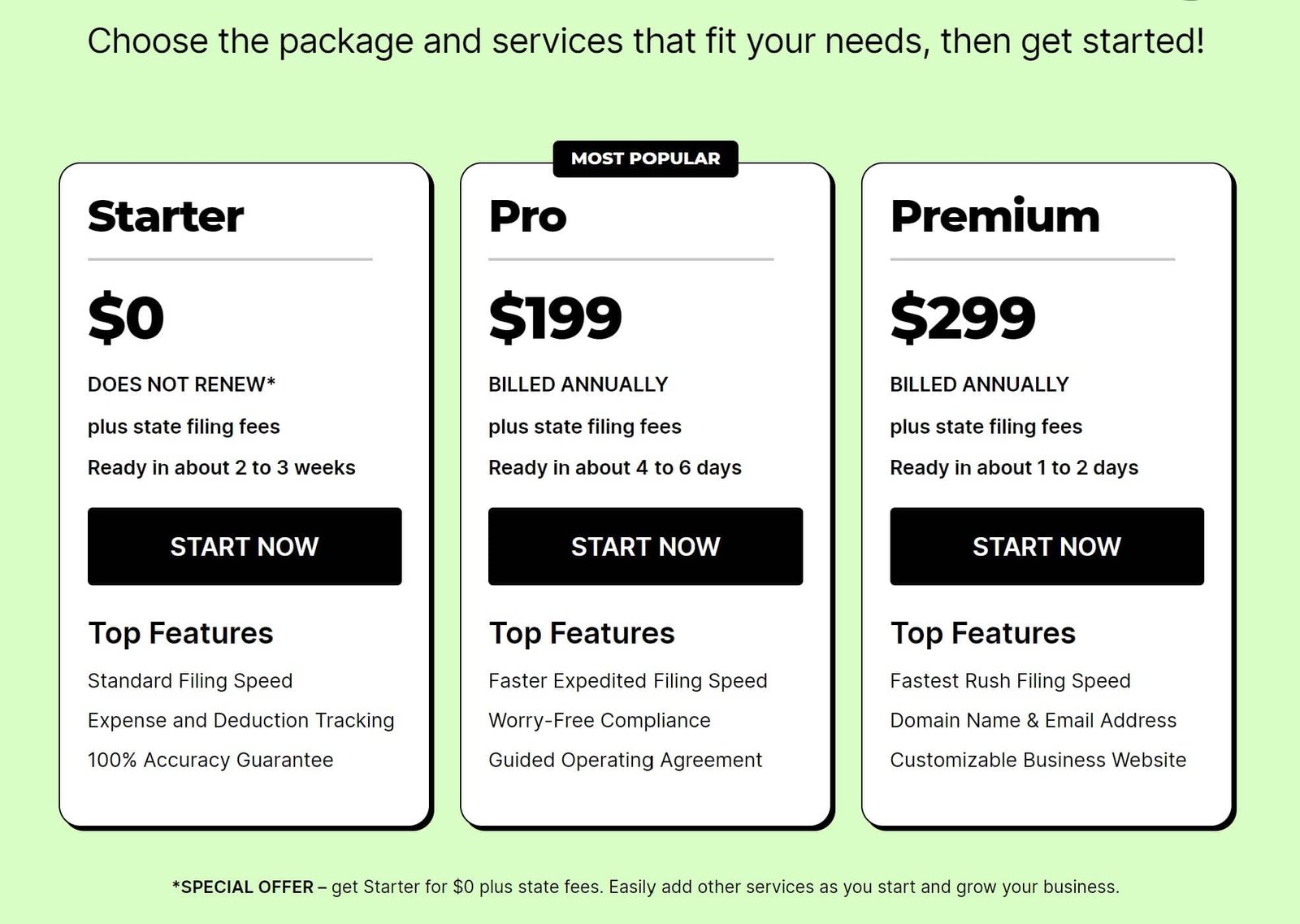 Next, choose one of the three ZenBusiness packages. Let's have a look at the plans and see which one is best for you LLC.
Starter — Starting at $0 the first year
Pro — $199 a year
Premium — $299/year
These rates do not include state fees. The exact fees charged will vary from one state to the next.
All plans include LLC preparation and filing. ZenBusiness will handle all paperwork by simply asking you for some information about your company. Every plan includes a search for business names.
Before you file the paperwork, the ZenBusiness formation experts will search the state database to confirm that the name is available. If the requested name is not available, ZenBusiness will contact you to find a suitable substitute before the formation process begins.
ZenBusiness allows you to access your documents online 24/7 via a simple dashboard. You can monitor the status of your company formation online at any time. You can also download and print all documentation for your LLC once the formation process has been completed.
All ZenBusiness packages include registered agent services (more information later).
A Statement of Organizer and Operating Agreement templates will also be provided. ZenBusiness offers additional perks such as a $150 Google Ads credit and a complimentary accounting consultation.
For $50 and $100, you can add expedited or rushed filing to your Starter Plan. At that point, upgrading to Pro or Premium is worth the effort. The Starter package does not include an employer ID number (EIN). You can avoid the $70 extra fee for an EIN by choosing the Pro plan
ZenBusiness is an excellent choice for anyone who wants to create an LLC. It is easy to get started and it takes very little time.
Although they are not the most expensive LLC formation service available, they deliver value.
ZenBusiness Incorporation Services
ZenBusiness offers a range of incorporation services that are very helpful. They are ideal for anyone looking to start any of these types of businesses:
C corporation (C corp).
S corporation (S corp).
Non-profit corporation
ZenBusiness offers useful resources that help you decide which corporate entity structure you should choose. You can also find a guide that outlines the steps required to form a corporation. It looks like this:
The website provides more detail about each step. Even if you're not familiar with the process, it is easy to follow.
Although ZenBusiness can't manage all of the ten steps, they provide assistance with many of them, especially the more difficult ones. ZenBusiness offers the following incorporation services to its customers:
Preparation and filing of corporate documents
Search for available corporation names
Services of a registered agent for corporations
Bylaws for corporations
File for EIN (employer identification number)
Consulting in accounting
ZenBusiness does not offer services for things like appointing directors or drafting shareholder agreements. However, this is the case for many business formation services available today. ZenBusiness will need to have some of these information in advance in order to prepare your corporate bylaws or other documentation.
ZenBusiness can help you register your corporation as a DBA name (doing business under) using the ZenBusiness platform. Although this will not provide any legal protection for your business, many organizations use DBAs to trade names.
ZenBusiness offers three plans for corporations, the same as for LLCs: Pro, Starter, and Premium. These packages are available at $0, $199 and $299 per year, respectively.
The rates don't include state fees. ZenBusiness will add the appropriate fees to your package by selecting your state. It's very easy to do all of this on the website.
Overall, I recommend the Pro plan. This package includes EIN filing, worry-free compliance and expedited filing.
ZenBusiness Registered Agent Services
ZenBusiness provides registered agent services to existing and new businesses.
Note: In the ZenBusiness terms of service, they state that they might outsource their registered agent services to a third party but they do not disclose who the third party might be. That might be okay if they work with a reputable third-party registered agent. ZenBusiness is a new and growing company, I think this explains this policy.
Registering with ZenBusiness as a registered agent will allow you to handle all correspondence with the Secretary-of-State and other government agencies. ZenBusiness will ensure that all your tax documents, as well as other legal business documents, are properly managed and communicated to the appropriate government agencies.
States require that LLCs and corporations appoint and keep a registered agent during business formation.
Your ZenBusiness registered agent will accept legal documents for you if they have a physical address in your state. You can download, view, and print the documents from your online dashboard.
ZenBusiness Registered Agent Service starts at $99 per year This service can also be purchased as a standalone option. For $149, you can also get Complete Coverage that includes compliance services.
It's cheaper to bundle the incorporation with a business creation package. These services start at $0 per annum, and even the entry-level plan includes registration.
ZenBusiness offers a standalone Registered Agent service. This is only for those who already own a business and wish to change registered agents. If you don't have a business, then formation plans are your best option.
Your ZenBusiness registered agent is available during normal business hours. They can also serve legal notice on your behalf, and will promptly forward legal documentation to the relevant parties at your company.
ZenBusiness Verified Use Reviews on Trustpilot
Visit the ZenBusiness customer reviews on Trustpilot
Overall Pricing and Value
ZenBusiness' pricing is comparable to other services for business formation. While they are not the most affordable, they are certainly not the most expensive.
We've already discussed the plans in this guide. Here's a detailed look at what comes with each package.

Starter — Starting at $0 plus any state fees

File LLC paperwork
Search for business names
Services of a registered agent
Support by phone and email
Online document access
Template for an operating agreement
Consultation on accounting free of charge
$150 Google Ads Credit
Standard filing speed
To add to this plan, your tax ID (EIN), costs $75 This is definitely something you will need.

Pro — $199/year plus state fees

All Starter plan services
Speedy expedited filing (usually less than 10 business days depending on the state).
Included is the EIN number
Template for banking resolution
Business document templates library
You can be worry-free

Premium — $299/year plus state fees

All Pro plan services
Speedy filing (approximately 3-5 business days)
Website for businesses
Domain name for business
Privacy of domain names
Business email address
The ZenBusiness Pro plan offers the best value overall. You get an EIN and expedited filing. The "worry-free compliance service" (annual report filing, two yearly amends) will also be available to you.
If you are in a hurry and need to set up your business quickly, the Premium plan is not for you. The business website, domain, or email is not a major draw. You should get them elsewhere. You can instead pay a $100 extra per year for rush filing (Pro vs. Premium).
If you cancel your plan before it is sent to the state, plans are 100% refundable.
ZenBusiness is right up there with the big names in business formation. ZenBusiness is not able to offer the same level of legal consulting services as its competitors but still provides great value.
User Experience
ZenBusiness offers a seamless user experience. This is possible even if you don't have any technical knowledge. You can start a business by learning how to use the Internet.
Everything is easy once you land on the site. It's as easy as selecting the entity type (LLC, corporation) and your state to get started. You can then choose a plan and add on any additional fees.
In minutes, you can create an account. You will then need to give ZenBusiness certain details about you business. You can manage all of this online using an intuitive dashboard.
Online customer reviews will show nothing but praises for the website's ease of use. Once you have submitted your information, ZenBusiness will allow you to track the status of your order as it is processed. Here you can also access all your legal documents.
You can complete the entire process in one sitting if you are prepared. It's then easy to relax and let ZenBusiness take care of the rest.
Customer Support
ZenBusiness's customer support team is responsive and helpful. They are available by phone or email during the hours listed below:
Monday through Friday, 8 a.m. to 8 p.m. Central Time
Sunday 10 a.m. to 7 p.m. Central Time
The phone support service is quick and customers are not subject to long wait times. Within one business day of receiving your inquiry, they will respond to you by email.
When you are looking for a company to form your business, it is important to have reliable and fast support. It is normal to have questions throughout this process.
On Saturdays, they are not available to assist you. The support is exceptional beyond this.
Final Verdict
ZenBusiness is the best choice if you are looking for a business formation company.
ZenBusiness' most popular offerings include incorporation services, LLC services, and registered agent services. ZenBusiness offers more than just the all-in-one packages. ZenBusiness can also be used for individual cases such as EIN filing, business name registrations, operating agreement templates, and so on. ).
The most popular packages are for LLC and Corporation formation.
It's hard to beat this value starting at $0 per year plus state fees
Visit ZenBusiness
Steve Andrew is EntityFiling's main writer and editor.
Steve is an expert in business development and management with 14 years of business consulting experience. He assisted clients with LLCs and Registered Agent services using his business management degree.
Steve speaks and writes about business growth opportunities worldwide.
Email, steve@entityfiling.com